Quarterdeck | About | COs | Ships Company | Deceased | Newsletter | Association | Reunion | Vet Services | Life Aboard | Photos | Links
---

From Chuck Weber, your Veteran Service Officer...

Medicare ID Cards -
What You Must Know About the New Card
Every Medicare beneficiary will receive a new identification number and card soon. The measure is part of an effort to help protect beneficiaries from identity fraud, according to Medicare, a federal health insurance program primarily for folks ages 65 and older. Currently, Medicare identification numbers are based on Social Security numbers. As the Medicare program tells beneficiaries: "Fraudsters are always looking for ways to get your Social Security number, so we're removing Social Security numbers from all Medicare cards to make them safer. Your new card will have a new Medicare number that's unique to you."

This announcement isn't just one for seniors to note, however. Health care fraud can happen to anyone. So, you should safeguard your health insurance card, regardless of whether you're insured under Medicare.

If you're wondering what the new cards will look like, the Medicare program provides this example: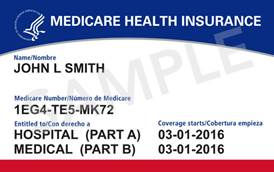 What seniors need to know about their new Medicare cards...

Now, there are some basic facts every Medicare beneficiary should know about their new cards. These IDs:

· Are free. So, there is no cost to beneficiaries.
· Will be mailed out beginning in April.
· Will be mailed automatically. So, beneficiaries don't need to do anything to ensure they are issued a new card.
· Will be mailed to the beneficiary addresses on file with the Social Security Administration. So, beneficiaries who need to update that address should log into their SSA.gov accounts.
· Have no bearing on beneficiaries' coverage or benefits. So, coverage and benefits will not change in connection with the new IDs.

Once you receive your new card, the Medicare program advises that you take three important steps:

1)Destroy your old Medicare card right away.

2)Use your new card. Doctors, other health care providers and plans approved by Medicare know that Medicare is replacing the old cards. They are ready to accept your new card when you need care.

3)Beware of people contacting you about your new Medicare card and asking you for your Medicare number, personal information or to pay a fee for your new card. Treat your Medicare number like you treat your Social Security or credit card numbers. Remember, Medicare will never contact you uninvited to ask for your personal information.

Tip No. 3 touches on an important point: You still must safeguard your new Medicare number and card. That's because receiving a new ID number or card is not enough in itself to prevent fraud. Medicare numbers will no longer give away Social Security numbers, which may help prevent fraud. But Medicare numbers will still be unique identifiers, which means they're still useful to thieves.


[Source: MoneyTalksNews | Karla Bowsher | January 31, 2018]
---
©1997 - 2018 by USS RICH Association, Inc. - All Rights Reserved