---
Commodore Szabo Chases Sub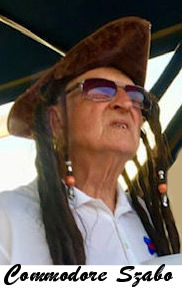 The Cod (SS/AGSS/IXSS-224) was scheduled to leave at 2PM from its mooring just West of Burke Lakefront airport. My vessel, the Susieq, a 31' Tiara, unarmed, but with sufficient liquid supplies for a day on the water was located approximately 3 miles East of the Cod mooring at Lakeside Yacht Club in Cleveland.

We intended to go down to the Cod and watch her depart. We arrived in time to make our passage and found the Cod had departed at 11am with much fanfare and managed to slam into a Coast Guard ship in the process. At 2pm we left our mooring with a most able bodied crew of both sexes (traditional) and headed East hoping to catch up with the Cod.

Our vessel's speed averaged approximately 23 mph. Heading East our lookouts saw no sign of the Cod nor were we able to raise any information on her on the marine radio. Did not bother to resort to radar as there was quite a bit of traffic it being a Sunday afternoon and only 1-2 foot waves on Lake Erie. After about an hour of running and a light fog settling in we started to become somewhat discouraged and I throttled back and started a turn to starboard to return to port. However, just as I started that turn I looked to port and at about 11 o'clock saw the silhouette of the Cod in its battledress gray slithering low on the surface towed by the tug Manitoc and escorted by a Coast Guard vessel all about four miles away.

The Susieq quickly overtook the Cod and we past her astern and initially came up along her port side. The Cod was lightly manned and the crew was rotating her five inch gun and what appeared to be the 40 and 20 millimeter mounts. The Coast Guard vessel then broke off and a small flotilla of pleasure craft continued to escort her towards her destination and that being the Port of Erie Pa., about 90 miles East where she is to undergo hull repairs before returning to Cleveland this fall. We increased speed, crossed her bow and past down her starboard side and then headed back to port for a well-deserved beverage. She was quite a spectacle to see. Great fun for this old sonar man to have tracked down another sub.
And this is my story of an afternoon on the water chasing down a much decorated submarine of WWII who 77 years ago was in the Philippine Sea hunting Jap shipping and men of war.
Links to this story:
---
©2021 by USS RICH Association - All Rights Reserved
Created and maintained by Marshall K DuBois