19th Annual Ship's Company Reunion

Who Came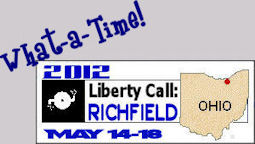 | | |
| --- | --- |
| And a great time was had by all! | |

Beautiful Spring weather prevailed during our stay in Richfield save for our "day at the races" where we experienced a showery, very cool and breezy day.

Every event either won, placed or showed (as in racing parlance) and were winners for our shipmate and guests alike.

Photo Video
We selected about 400 of the best photos for your viewing pleasure. (We had nearly 1200 to choose from!)
Click below to watch.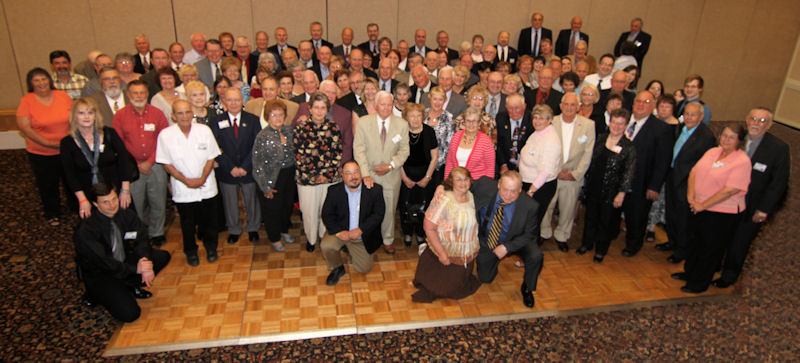 Group Shot - Shipmates Only
Some color photos available in the May 820 Newsletter
Top
Who's Came

| | | | | | | | | | | |
| --- | --- | --- | --- | --- | --- | --- | --- | --- | --- | --- |
| Last | First | Rate | Tour | Guest | | Last | First | Rate | Tour | Guest |
| Aeschiimann | Mike | MM2 | 62-66 | Peg | | Koski | Joseph H. | BMSN | 57-59 | Mary L |
| Angelicchio | Paul | EM3 | 76-77 | Karen | | Maniscalco | Louis F | RD3 | 64-66 | Jeanine |
| Bandomir | Wally | CSSN | 66-70 | Pat | | Mayne | Paul A. | MM3 | 55-57 | |
| Barilla | Joseph H | BT2 | 65-68 | Bonnie | | Medlin | Gary R. | SK2 | 69-71 | Christine |
| Barner | Donnie | GMG3 | 60-63 | Carole | | Moyer | Dennis H | SFM2 | 63-67 | Elvira |
| Campbell | Richard W. | MM2 | 56-59 | Elsie Mae | | Ohmer | Tom | MM2 | 59-61 | |
| Carroll | James | MM3 | 65-67 | Karen | | Orlowski | Ron | EM3 | 59-62 | Carol |
| Chester | Jim | LTjg | 66-69 | Jo Ann Mauro | | Orthouse | Delton D | GMM3 | 63-68 | Mary |
| Clauss | Jerre | RD2 | 60-62 | Arlene | | Ortiz | Leonardo | TM3 | 62-65 | Nilda |
| Cochrane | Robert N | EM3 | 54-56 | Joan | | Paxton | Ed | EM3 | 66-69 | |
| Compher | Samuel | PC3 | 67-68 | Pamela | | Priddy | Rowland | RM3 | 68 | Jackie |
| Dahlstrom | Lee | MRFN | 56-58 | Kris | | Rockwell | Fred D. | S1/c | 46-48 | Elizabeth |
| DeCandia | Domenic | MM3 | 58-61 | Joann | | Romanino | Otta | BT3 | 54-56 | |
| Dixon | Larry | RD3 | 65-67 | Fay | | Scudder | John | MM2 | 74-77 | |
| DuBois | Marshall | SH2 | 62-66 | Iris | | Sipos | Warren | RM3 | 67-70 | Carolyn |
| Dunnigan | Jerry | BMSN | 65-67 | Deb | | Skillen | Johnny | BMSN | 64-66 | Kay |
| Edwards | Dennis H | MM2 | 60-62 | | | Snyder | Gary L | BT2 | 63-67 | Shelia |
| Evans | Dave | BT2 | 58-62 | Mary Ann | | Spinozza | Leonard | PN2 | 54-55 | |
| Fisher | Arthur R | FN | 64-66 | | | Sturdivant, Sr | Ron | SM3 | 65-69 | |
| Fledderman | Mark | EM2 | 62-65 | Joann | | Svec | Jim | PN2 | 59-62 | Carolyn |
| Franchetta | Joseph P | FN | 55-59 | John Dayton | | Szabo | John | SOGSN | 61 | Susan |
| Greenfield | John | FN | 51-55 | | | Tubbs | Charles A | RMC | 75-77 | |
| Gross | William | BT3 | 65-67 | Ann | | Walton, Sr | William G | BT3 | 51-52 | Mary Ann |
| Halloran | Larry | RD3 | 66-68 | Pat | | Weaver | Samuel T | BT1 | 75 | |
| Hebb | Lawson | FT3 | 49-52 | Susan Boeger | | Weber | Charles | LTjg | 76-77 | |
| Himes | Carl | SK3 | 60-62 | Elaine | | Wentway | Charles | FP2 | 53-57 | |
| Hineland | Dwayne | IC3 | 56-58 | Reva | | Wheeler | Jim | SH3 | 50-53 | JoAnn |
| Hogg | Don | BM3 | 62-64 | Bonnie | | Williams | (Bob | TM3 | 65-68 | Lucille |
| Ingham | Lawrence D | RM3 | 68 | Andrea | | Wilson | Gary L | SHSN | 60-62 | Catherine |
| Kilmer | George N. | ETN3(SS) | 65-66 | Linda | | Wolff | Roger | DC2 | 67-69 | Rachel |
| Koeniger | Dick | SN | 59-61 | | | Yocum | William | MMC | 63-67 | Joyce |
Quarterdeck |Top | About | COs | Ships Company | Deceased | Newsletter | Association | Reunion | Vet Services | Life Aboard | Photos | Links
©2012 by Marshall K DuBois - All Rights Reserved