24th Annual Ship's Company Reunion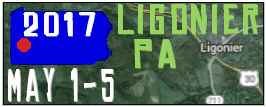 51 miles E-SE of Pittsburgh PA

Banner on the Square!

WOW!

What a time everyone had!
USS Rich shipmates... the little tin can crew that could. And still does. Yup, we still know how to party and have a great time!

128 shipmates, wives and guests gathered in Ligonier, PA, a quaint little town filled with friendly residents made our stay very pleasant. This year we had five "First Timers" who were made to feel welcome and are likely to continue to attend annual reunions.

Our hosts, EMCM Paul Angelicchio and wife Karen along with their Reunion Assist Team did a superb job in providing all the aspects of making the event successful.

With all reports in, everyone who made the trip to Frank Lloyd Wright's Falling Water, Quecreek Mine Memorial, Flight 93 Memorial and Fort Ligonier were delighted. (And some, worn-out after the long day.)

This year, we were honored to "Pipe Aboard" our two attending Plank Owners, Ed Roggenbuck and Fred Rockwell and they, in turn, were provided "Special Recognition" plaques.
2017 Reunion Assist Team
Paul & Karen Angelicchio, Hosts
Patricia Bandomir




Carol Barner




Bob Cochrane




Sam Compher




Pam Compher




Larry Dixon






H Barry Smith

Marshall K DuBois




Larry Halloran




Don Hogg




Dick Keoniger




Gary Medlin




Fred Rockwell






Jeanine Maniscalco

Warren Sipos




Jim Svec




Carolyn Svec




Susie Szabo




Catherine Wilson




Gary Wilson




Ray Zimmerman





Jimmy Carroll
Who Attended
Reunion Photos
If you have reunion photos to share, please contact the shipsoffice@ussrich.org
"You'd have to go a long way to enjoy the excellent service you'll receive at the Ramada Ligonier!"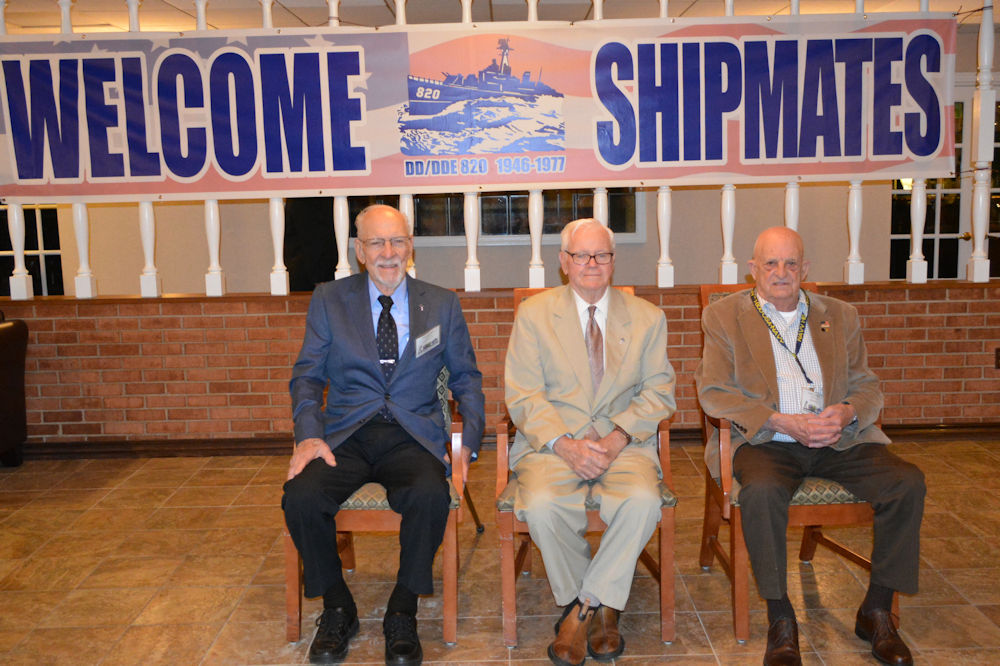 1940's Crew Members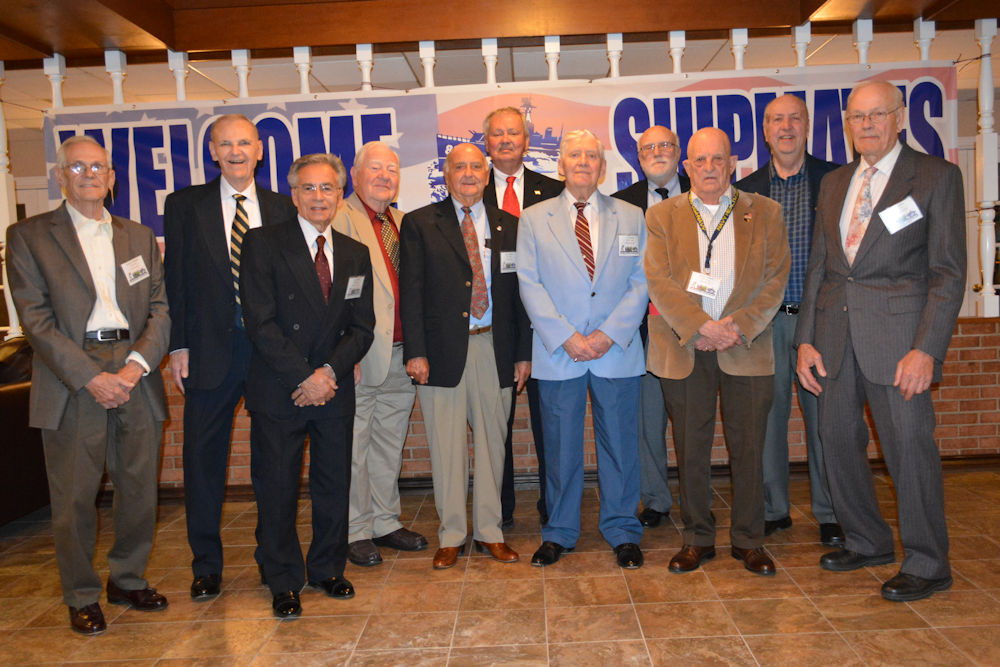 1950's Crew Members
1960's Crew Members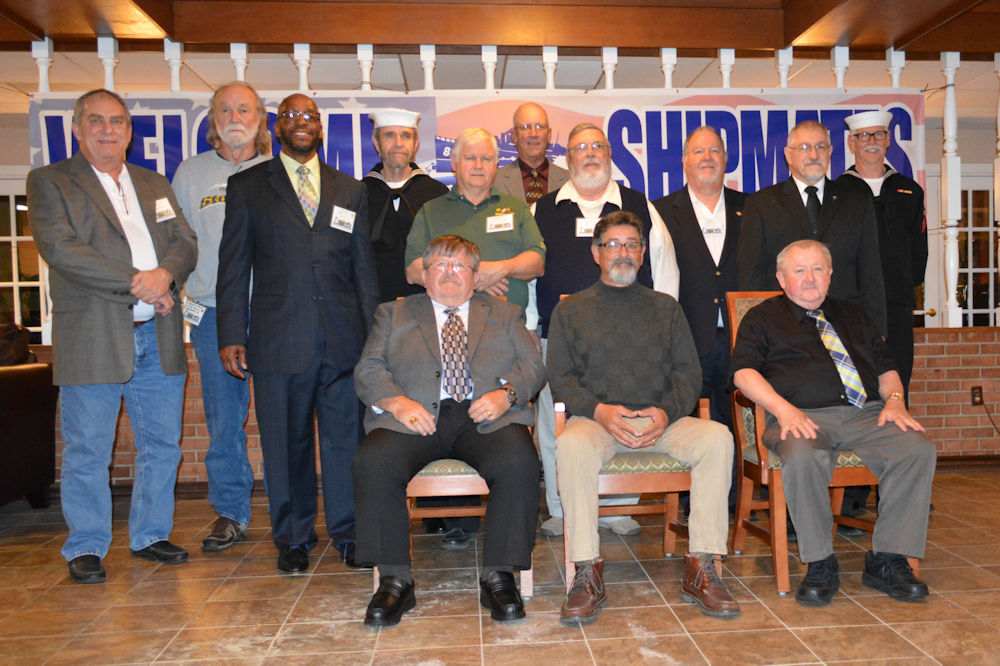 1970's Crew Members
Photography by Jeanine Maniscalco


Your Hosts...

Paul & Karen Angelicchio


Bravo Zulu Master Chief and Karen!

Who Attended
Quarterdeck |Top | About | COs | Ships Company | Deceased | Newsletter | Association | Reunion | Vet Services | Life Aboard | Photos | Links




©1997-2017 by USS RICH Association - All Rights Reserved
Created and managed by Marshall K DuBois
If you're looking for a delicious meal, head over to the

The broasted chicken is incredible!
























Who Attended

Alexander
Charles L
EM3
65-67
Angelicchio
Paul
EM3
76-77
Karen
Aube
Noel
GMG2
72-75
Bandomir
Patricia
Assoc
Barilla
Joseph
BT2
65-68
Bonnie
Barner
Carole
Assoc
Daughter & S-i-L Corey & John Merva
Beeman
L.E.
MM2
55-59
Bulson
Robert
SK3
55-57
Sylvia
Carpenter
Paul
DC3
56-58
Carroll
James
MM3
65-67
Karen
Chester
Jim
LTjg
66-69
Jo Ann Mauro
Clauss
Jerre
RD2
60-62
Arlene
Cochrane
Robert
EM3
54-56
Joan
Compher
Samuel
PC3
67-68
Pamela
Courtemanche
Wayne
RM2
71-73
Decandia
Domenic
MM3
58-61
Joan
Dixon
Larry
RD3
65-67
Fay
Driscoll
Edward
EMFN
53-56
DuBois
Marshall K
SH2
62-66
Niece Lora DuBois
Niece Debbie DuBois Patterson
Niece Lisa DuBois Snead
Fledderman
Mark
EM2
62-65
Joann
Givens
Donald
RM2
70-73
Karen
Guy
James D.
SH3
72-73
Karan
Halloran
Larry
RD3
66-68
Pat
Hebb Jr
Lawson
FT3
49-52
Susanne
Himes
Carl
SK3
60-62
Elaine
Hineland
Dwayne
IC3
56-58
Reva
Hogg
Don
BM3
62-64
Bonnie
Ingham
Larry
RM3
1968
Andrea
Kilmer
George (Buck)
ETN3SS
65-66
Linda
Klimek
John
BMSN
66-68
Koeniger
Dick
SN
59-61
Maniscalco
Louis
RD3
64-66
Jeanine
Medlin
Gary
SK2
69-71
Morales
Elmer
EM3
55-58
Iris
Son Keith Morales
Daughter Yvette Morales Cavanaugh
Moyer
Dennis
SF2
63-67
Elvira
Murphy
Jeffery
MM2
68-71
Roberta
Ortiz
Leonardo
TM3
63-65
Sister Nilda Oritz, Daughter Myrnai Ortiz
Pickard
James
STG3
63-65
Frances
Radziewicz
William
BT2
67-70
Rattoballi
James
SM3
63-65
Maureen
Ray
David
BM3
64-66
Louise
Rockwell
Fred
S1c
46-48
Elizabeth
Daughter Caroline
Romanino
Otto
BT3
54-56
Roggenbuck
Ed
FM2
46-48
Bessie
Roggenbuck
Daughters Marsha Garza, Susan Fritz
Scudder
John
MM2
74-77
Sipos
Warren
RM3
67-70
Skillen
Johnny
BMSN
64-66
Kay
Smith
H Barry
BM3
64-65
Carolyn
Snyder
Gary
BT2
63-67
Sheila
Stivison
Kenneth
MMFN
68-70
Son Steven
Svec
James
PN3
59-62
Carolyn
Szabo
John
SOGSN
61-61
Susie
Taylor
Daryl
MM3
76-77
Yvette
Taylor
Kenneth
EN1
67-68
Mary
Tomasi
Nick
SHSN
63-65
Kathy
Trovato
Douglas
SH3
65-67
Theda Foreman
Tubbs
Charles
RMC
75-77
Lois
Villi
Vincent D
EM3
69-71
Weber
Chuck
LTjg
76-77
Cathy
Williams
Bob
TM3
65-68
Lucille
Wilson
Gary
SHSN
60-62
Catherine
Wolfinger
Carlton
YN3
62-62
Yocum
William
MMC
63-67
Joyce
Zimmerman
Raymond E
MMFN
71-74

Indicates 1st Timer... Welcome!

Missed by all this year
Chandler
William
RD1
47-51
Margaret
Dunnigan
Jerry
BMSN
65-67
Deb
Evans
Dave
BT2
58-62
Mary Ann
Franchetta
Joe
FN
55-57
Gross
Bill
BT3
65-67
Anne
McCall
Robert
EM3
70-73
Orthouse
Delton
GMM3
63-67
Mary
Priddy
Roland
RM3
68-68
Jackie

06May17